Scottish Fire Competitions
In North America, S.FIRE Scottish Fiddling competitions are excellent opportunities to meet and play with fellow Scottish fiddlers; learn from judges who are recognized experts in the field through workshops and written, personalized competition comments;and a chance to perform in friendly, relaxed environments.
Grandfather Mountain Highland Games Regional Fiddle Competition ~ 2017
Judge - Jane MacMorran

Open
1st: Joanna Johnson
2nd: Kathleen Lavengood
3rd: Shane Watson

​Novice
1st: Karen Elizabeth Hyland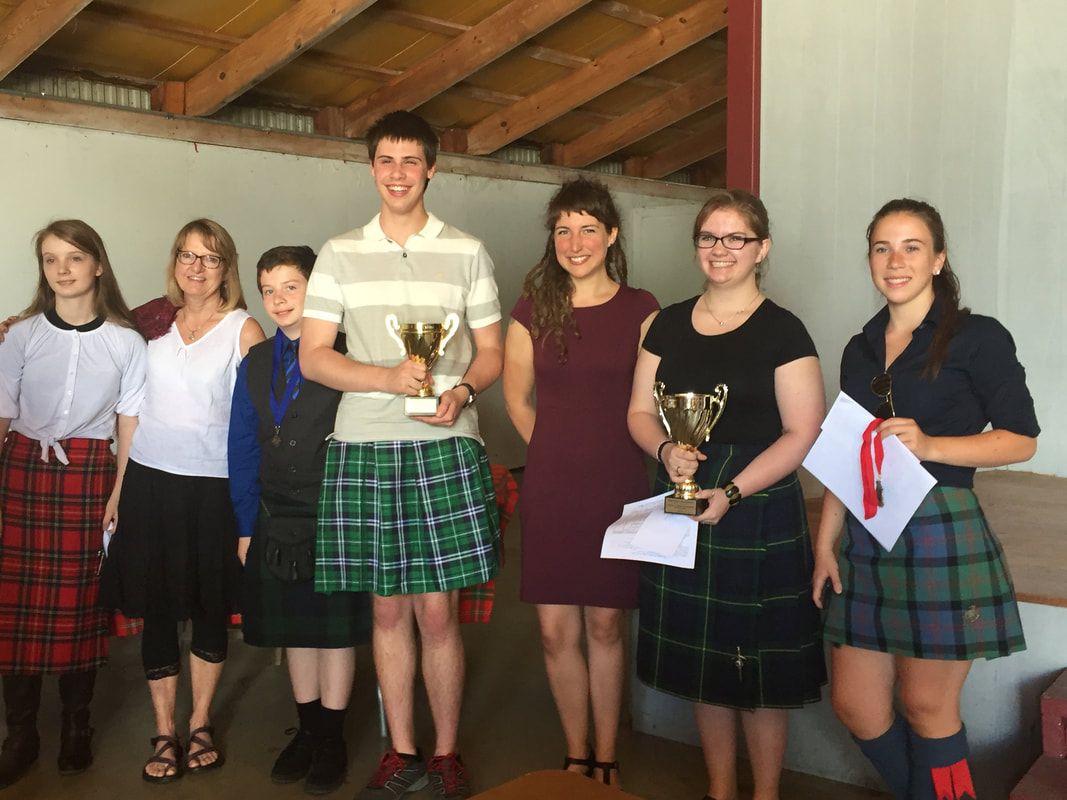 ​2017 Ohio Scottish Games and Festival of the Arts.
June 24
Regional Scottish Fiddle Competition Results.
Judge, Emerald Rae
NOVICE
1st Place - Will Dorman

​JUNIOR:
1st Place - Tomer Shamir (recommended to Nationals)
2nd Place - Emma Dorman
​
OPEN
1) Meredith Hudock (recommended to Nationals)
---
Columbia Pacific Scottish Fiddle Competition- Portland OR
July 15, 2017. Judge Robecca Lomnickey
Open
1st Place - Vienna Scheyer - best set, march, strathpey ( nationals)
2nd Place - Elina Gouw - best air
3rd Place - Emma Rodrigues

Novice
1st Place- Kiersten Doggett
2nd Place- David Greger
3rd Place - Annette Dong


NE Florida competition Results
Feb. 27, 1016

Open Category:
1st Place – Connor Civatte
2nd Place – Katie Geringer
3rd Place – Claudia Edwards

No other categories had competitors.



2017 U.S. Nationals
We are pleased to announce that the U.S. National Scottish Fiddle Championships will again be held at Edinboro University as part of the Edinboro Highland Games and Scottish Festival. The date is Sat. Sept. 8, 2018. The regional qualifier will be held on Friday Sept. 7th. 2018. For details and registration go to the website:http://www.edinboro.edu/events/highland-games/​
While Edinboro has told FIRE that it is more than willing to continue to host us for as long as we wish, and FIRE is grateful for the Edinboro's generous support, FIRE still maintains interest in moving our National Championship around the county. Opportunities to offer the National Championship in the Mid-west or Western parts of the country would be particularly welcome. If anyone has suggestions or could contact your local Highland games or festival about hosting the Nationals please let us know. (FYI- all funding for the competition must be supplied by the Festival.)


Fiddle Competition Results

2017 Edinboro Highland Games and Scottish Festival Regional Qualifier fiddle competition

Judge ~ Ryan McKasson

Junior
1st place - Will Dorman

Open
1st Place - Deb Johnson( nationals)

---

2017 U.S. National Scottish Fiddling Championship Open class winners
Judges, Elke Baker, Ryan McKasson, & John Turner

1st place and winner of the Paul Brockman Founder's Trophy
Joanna Johnson from WI

2nd Place
Tim Macdonald from IL

3rd Place
Meredith Hudock from PA

Honorable Mention
Vienna Scheyer from WA

Honorable Mentions
Joanna Johnson ~ Best Air
Vienna Scheyer ~Best March
Meredith Hudock~ Best Reel
​








---


2017 U.S. National Scottish Fiddle Championship Junior competitors

1st Place - Connor Civatte, Best reel, strathspey, air and winner of $500 scholarship toward Jink & Diddle Scottish fiddle school
2nd Place - Ollivia Gerving; Best set
3rd Place -Lily Beasley
Most Promising - Evelynn Foster






---
2017 New Hampshire Highland Games Fiddle Competition results 9/17/17 ; Judge, Alastair McCulloch
OPEN
First Place - Mari Black- best air, best reel (Neil Gow Quaich)
Second Place - Elizabeth Anderson- best strathspey, best march (William Marshall Quaich)
Third Place- Catherine Miller (Ron Ganella Quaich)

JUNIOR
First Place - Maggie MacPhail best strathpey, best reel (Nathaniel Gow Quaich)
Second Place - Giulia Haible best air (James Scott Skinner Quaich)
Third place - Best March (Tom Anderson Quaich)

Novice
First place - Alexia Rose-


Charleston Scottish Games Highland Gathering
September 17, 2017 ~ Judge David Gardner
Open
1st place - Shane Watson - Fiddler of the Day
2nd place Cathleen Nixon

Junior
1st place - Rebecca Simmons

Novice
1st place - Emelie Thomas
​

Virginia Scottish Games Scottish Fiddle Competition Oct. 2016 ~ Judge, Elke Baker
* recommended to National's

OPEN
1st place - Sean Heely Paul Brockman Memorial award
2nd place - Heather Butler Ronald Duncan Gonnella award
3rd place - Catherine McClain PVSFC award

JUNIOR
1st place Colin McGlynn John & Catherine MacDougall Memorial award
2nd place Emmet Furlong Ian Smith-Christmas Memorial award
3rd place Clark Furlong

Adult Novice
1st place Andrew Henderson Charles E. Watts Memorial Award
2nd place Jerry Shumway Medal sponsored by Celtic Cross

Jr. Novice
1st place Evelynn Foster William Kemp Memorial Award
2nd place Nova Seidenstein

Best Set: Colin McGlynn
Best Air: Sean Heely
Best March: Clark Furlong
Best Strathspey: Sean Heely
Best Reel: Sean Heely
Fiddler of the Day: Sean Heely
​Most Promising Fiddler: Nova Seidenstein Fiddling Scholarship: Colin McGlynn



Ligonier Highland Games ~ Sept. 23, 1017,Judge - Melinda Crawford

Open
1st place - Peter VanOsdol

Junior

1st Place - Tomer Shamir (nationals)
2nd Place - Emma Dorman
3rd Place - Will Dorman